Support 75 State Street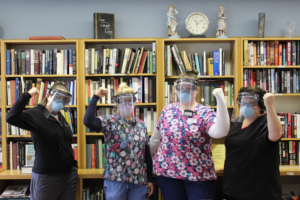 Through 165 years of devotion, hard work, and perseverance, staff, administration, and volunteers have created a community for 75 State Street residents that provides an unparalleled experience in the heart of Portland. Our knowledgeable and caring staff are committed to celebrating and maintaining the dignity, independence, and individuality of the residents.
We cannot do the important work at 75 State Street without you, our committed partners. 75 State Street is a nonprofit 501(c)(3) charitable organization and your contribution help continue our mission of providing and promoting exceptional senior care.
 How You Can Help
COVID-19 Response Fund

– This fund supports the essential measures 75 State Street is taking to protect the health and safety of its residents and staff throughout the COVID-19 pandemic. Navigating this extraordinary situation requires extraordinary resources. We hope our partners and friends are willing to assist us through this crisis.

Annual Fund

– The Annual Fund supports general operations and allows 75 State Street to be a diverse, inclusive community that offers quality, affordable facilities and services for all. From services and programs to facilities and amenities, the annual fund is the foundation of philanthropic support at 75 State Street.

Other

– You may also restrict your donation for a specific designation of your choice. If you are unsure about how your gift might be utilized, contact Mike Rayder, associate director of development, at 207-245-3348.
Ways to Give
Credit Card: Click the box above and make your credit card gift today!
Check: Send a check made out to 75 State Street to: 75 State Street, Attn.: Advancement Office, Portland, ME 04101.
Stock/Securities: Contact Mike Rayder at 207-245-3348 or Rayder@75StateStreet.org to inquire about how to make a stock gift to 75 State Street.

To learn more about how your generosity can help us fulfill our mission and help you reach your personal, philanthropic, and financial goals, please contact:
Michael Rayder
Associate Director of Development
phone: 207-245-3348
email: Rayder@75StateStreet.org
Thank you!